Release Day! (Bonus Included) ?>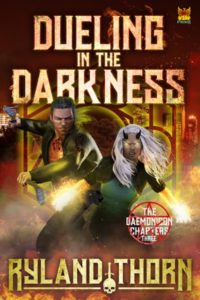 I'm proud to announce that the third book in my Daemonicon Chapters series has finally gone live. As as a special bonus for my fans, it and both other books in the series are currently being sold for the special, one-day-only price of $0.99 each.
Here's the blurb:
Even heroes can suffer defeat
The Tar Man has been captured. He holds the keys that the Brotherhood so desperately need.
Jack, as driven by rage and hate as ever, will do anything to make the loathsome half-breed talk. His one desire is to locate the sorcerer and retrieve the Daemonicon.
But even if the Tar Man breaks, how can his words be trusted? And the sorcerer is far more dangerous than anything Jack and Lennox have faced before. If they manage to find him, how will they even survive?
Grab your copy of Dueling in the Darkness here!
(You can also find books one and two here.)